Democrats and Republicans talk about illegal immigration not to eliminate it but to advance their ideological agendas.

Our immigration law is un-American in its concept and unconstitutional. It is a major obstacle to our economy's growth.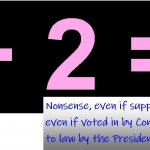 Several weeks ago a former Florida governor, and potential 2016 presidential candidate, Jeb Bush whizzed throughout the media announcing...