Nations that truly discuss their problems make better decisions and are wealthier than those that do not. The money...
AI can dance around human sensitivities and, as a machine, be less intimidating. It can give us a shot...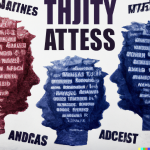 With every major invention, there were fears that it would destroy fragile human society. For some, trains, movies, planes,...
One cannot pass a law making Americans smarter.