An update on April 26, 2023. Brian Kolfage was sentenced to 51 months in prison for carrying out a scheme to defraud 
hundreds of thousands of donors in connection with an online crowdfunding campaign known as "We Build The Wall" by 
soliciting donations using false statements and then stealing the resulting donations. HAK
Many patriotically motivated Americans try to help President Trump in his attempt to resolve our immigration crisis. In an extreme case, one of them took his AK-47 style rifle and drove for about nine hours from the Dallas area to kill 22 people in Walmart, in El Paso, TX.
Building the wall is the flagship of the president's immigration policy. Brian Kolfage is there to help. I do not know how, but he found or bought my private email address, and a few months ago I began receiving regular updates from the We Build The Wall (WBTW) efforts led by Mr. Kolfage. Most of us usually block unsolicited emails, especially those advocating for a political agenda we do not support. As a political writer, I do the opposite – I read them, at least occasionally, and sometimes reply. In particular, I emailed back the link to my article arguing that the border wall makes no sense. When Mr. Kolfage informed me that his venture has support from Kris Kobach, one of the most prominent anti-immigration political activists and currently a candidate for the U.S. Senate from Kansas, I forwarded to him the link to my article debunking the most famous anti-immigration video. I did not expect a reply, and I did not get one. Most likely, they ignored my responses. If they had at least read them, they would think twice before sending me an email on Aug. 15, 2019 that prompted me to write this article.
The subject line read: "Who Knew A Game Could Help Win The War?!" On the screenshot of this email we can read that they "brought that exact game to a whole new level (…) at a constant war against the cartels and illegal immigration." In my understanding of the email, two weeks after the El Paso shooting, Mr. Kolfage winks to me that building the wall is just a smokescreen, but bullets are the ultimate means "for an AMAZING cause in which we ALL stand behind."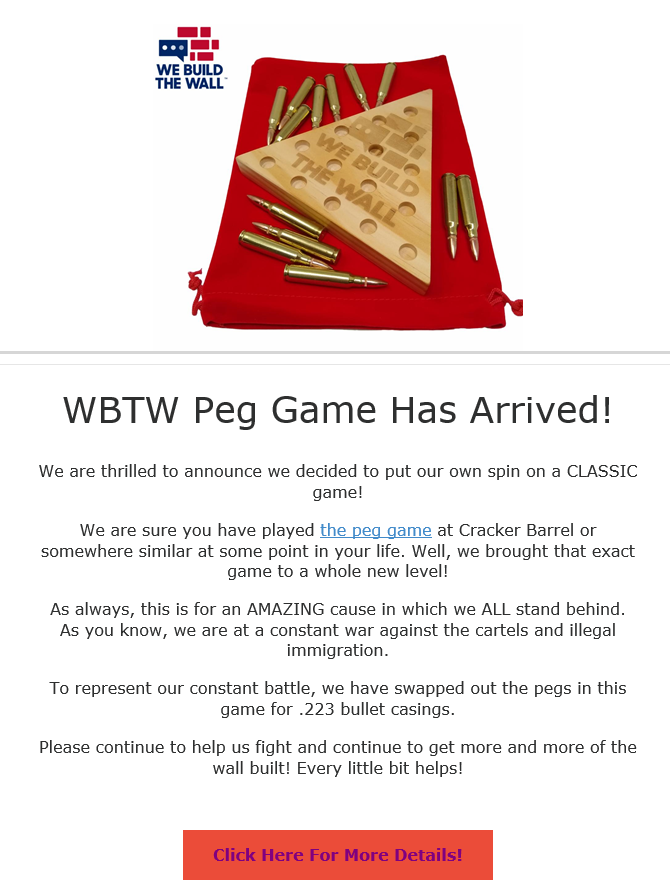 Concerned that I might be oversensitive, I looked more closely at who Mr. Kolfage is and what he does. The more I read, the more interesting things I found.
We know that at 19, he joined the Air Force, trained to be a pilot. We do not know how this went, but we know that four years later he served with the military police at the Balad Air Base, Iraq. During an ambush, a missile exploded nearby and, thanks to medics being close by and the miracles of modern medicine, Mr. Kolfage survived. The nation rewarded him with the Purple Heart, but he lost both his legs and his right hand. He showed strong will and endurance in his recovery. In his personal life, he won the heart of a girl he fell for years ago and now is happily married, with two kids. Being right-handed, he taught himself to use his left hand to the point that he earned a bachelor's degree in architecture.
But architecture was not his calling. Soon, he became involved in numerous not-for-profit funding ventures, with the purpose of helping veterans, sick people and supporting conservative political causes. There would be nothing wrong with helping others, if not that Mr. Kolfage has been accused of many financial irregularities. The report by BuzzFeed depicts him as an unscrupulous manipulator exploring his military past to enrich himself, mostly by using or, to be precise, abusing social media.
In the article supporting Mr. Kolfage, one can read that when promoting his conservative news site Right Wing News, he accumulated almost 10 million fans on Facebook by maintaining about 600 pages and 200 accounts there. It is a little more than one account per person or one per cause that Facebook allows; hence, all of them had been shut down by Facebook last October. In response, Mr. Kolfage became an advocate for freedom of expression (this website was shut down on August 23, 2019). I read, with a dose of skepticism, reports such as the one on BuzzFeed, but also on Medium, asking how the almost $1 million apparent cost of Mr. Kolfage's boat has been paid for. He dispelled my concerns himself when, on the leading picture of his own website dedicated to collect donations, he exposes his artificial limbs, asking shamelessly in bold letters: I GAVE THREE LIMBS FOR IT. WHAT ARE YOU WILLING TO GIVE?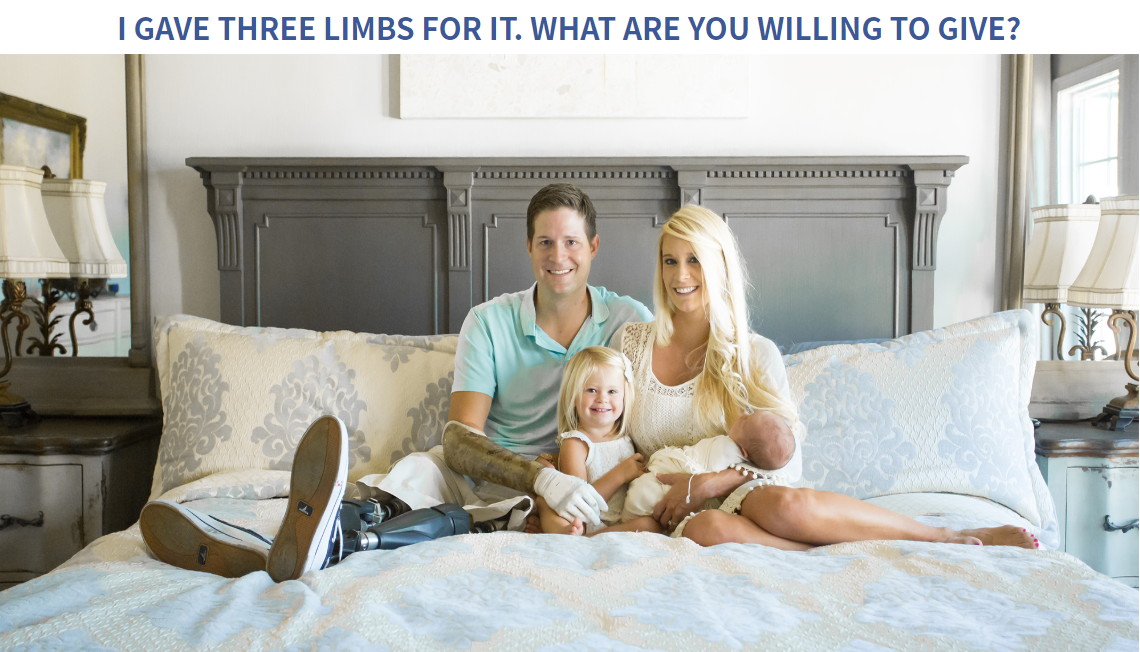 He plays on basic human emotions, implying that someone who had the back luck of losing three limbs in a missile explosion and the good luck of surviving it, does not need to be transparent when dealing with public money, as everybody else would be expected to do.
Last December Mr. Kolfage launched fundraising on GoFundMe with the purpose to raise $1 billion to help the federal government fund the wall. Within the first few days it raised about $9 million, but then the media started questioning the reputation of Mr. Kolfage. One could think that a person with a lengthy shadow of questionable financial dealings would be ostracized by politicians. Maybe by some, but hard-core anti-immigration activists embraced him. They stepped in when it became obvious that the targeted $1 billion was unrealistic. With the help of a top-notch lawyer from a major law firm specializing in political affairs, they formed We Build The Wall as a not-for-profit organization. This way donors could let Mr. Kolfage keep the money committed on the GoFundMe forum, even though the goal has not been reached. According to the WBTW website, 94% of the donors who committed $20 million gave their money to the WBTW. All funds donated on GoFundMe after December 28, 2018, go to Brian Kolfage directly. Presently it is above $25 million; in recent days he rakes in about $1,000 per day, mostly in small donations between $5 and $100.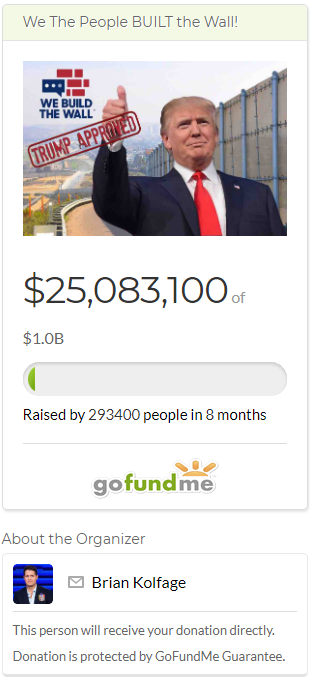 Some of the money collected by Brian Kolfage went into actually building the wall. In a small village of Sunland Park, New Mexico, 85-year-old George Cudahy owns a piece of land on the Mexican border. Annoyed by illegal immigrants crossing his property, he accepted an offer from Mr. Kolfage to build the piece of wall there. Instead of applying for a construction permit, Mr. Cudahy went to the city hall and asked for, and received, a permit to raise lampposts along the border. Then, during the Memorial Day weekend Fisher Industries from North Dakota stepped in and, working three days around the clock, built about 90% of a half-mile-long metal fence. The village of Sunland Park stopped the construction after the Memorial Day weekend, but, when it found itself in the center of a political storm, allowed Mr. Cudahy to complete the project under the condition that the proper permit would be obtained.
The fence builders overlooked the fact that they had blocked a levee road owned by the U.S. government. The U.S. Section of the International Boundary and Water Commission (USIBWC) forcefully opened the gate in the newly built wall. After negotiations, the two sides agreed to keep this gate closed at night and keep it open during daytime. What has critics laughing is that, despite the new wall, illegal immigrants still have a gate open through which to pass.
This half-mile metal fence was heralded by Mr. Kolfage as a one-mile-long border wall. Almost three months after completion, the actual cost of this project still has not been released. On GoFundMe it is listed as an estimated $6-$8 million, with the final cost to be determined. One needs to know that Fisher Industries, aka Fisher Sand & Gravel, which is the name of the holding company, is lobbying heavily for getting the wall construction contracts. It has vocal support from President Trump and North Dakota Sen. Kevin Cramer. This spring Fisher launched a media campaign claiming that it can build the wall much cheaper than other companies. In particular, they offered to build 234 miles of a border wall for $1.4 billion, or about $6 million per mile. In this context, releasing the real cost of the stunt in Sunland Park, N.M., can belie the claims of the marketing spiel of Fisher Industries, as half of a mile of border fence costs at least $6 million. This might be a reason that, in public announcements, Brian Kolfage "extended" the actually built border fence to one mile. After all, it appears that it is not about illegal immigration; it is only about money.
For the record, so far it does not look as though Fisher Industries has won any contracts for wall building. CNN pointed to the company's checkered record of criminal tax evasions and environmental violations. The Washington Post added that "DHS (Department of Homeland Security) officials also told the Army Corps in March that Fisher's work on a barrier project in San Diego came in late and over budget."
Mr. Kolfage still enjoys approval from President Trump and has support from Donald Trump Jr., Kris Kobach, Steve Bannon, Tom Tancredo, and many other fanatical opponents of immigration, despite the fact that, following media reports, authorities started looking more closely into irregularities in his multiple fundraising operations. At the beginning of August, BuzzFeed reported that in Florida, We Build The wall is under criminal investigation.
I checked again; Mr. Kolfage sent me the email with the bullet version of a peg game on August 15. My first thought was that it was a wink to hardcore supporters, but after learning more about Mr. Kolfage, I cannot exclude the possibility that it was a veiled message to the opponents as well. Also, it could be just one more not-well-thought-out, edgy media ploy, the specialty of Mr. Kolfage. Whatever it might be, it is worth our attention.